Registration is CLOSED for 2021-22
Click HERE to register for an
Individual Membership for 2022-23
Individual Membership Registration
Sep 1, 2021 to Aug 31, 2022
WELCOME TO REGISTRATION FOR THE 2021-22 SEASON
Please complete the subscription here for your 2021-22 Swiss Netball Individual Membership. Once you have entered your details, please pay your Individual Membership fee. The Individual Membership fee is CHF 30.- for the membership year from 1 September 2021 to 31 August 2022.
During the registration you can sign up other family members by clicking the 'Add Guest' button on Step 1 and adding their names. All family members can use the same email address under a single account. Be sure to fill out the survey separately for each person. Note that you can pay all the membership fees in a single transaction on the final Checkout step.
By registering as an Individual Member and paying the membership fee, you are contributing to the growth of Netball in Switzerland, and you will:
Promote empowerment and skills development for girls and women through sport

Participate in Swiss Netball competitions, leagues and events via your Swiss Netball Club

Qualify for all Swiss Netball learning and officiating courses and workshops

Be *eligible to participate in Swiss Netball trials, and potentially compete in international tournaments representing Switzerland at junior or open level

Qualify to attend the Annual General Assembly as an observer and stand as a member of the Swiss Netball Committee

Enjoy

exclusive retail offers
If you do not register as an Individual Member and pay the membership fee, this affects your eligibility to compete in Swiss Netball tournaments and participate in Swiss Netball events and courses. Individual Membership is obligatory for all participants in the National Squads program.
If you are not already a member of a netball club, a list of Clubs and schools where you can train and enjoy netball, whether as a beginner or established player, can be found on the Swiss Netball Website.
*National squads eligibility requirements must be met.
Swiss Netball Membership Terms (PDF)
---
Swiss Netball
Swiss Netball is the governing body for the sport of netball in Switzerland and is a full member of both the International Netball Federation (INF) and of Netball Europe (NE).
Swiss Netball are the 2019 U17 Netball Europe Challenge Cup Champions.
Swiss Netball aims to:
Provide a supportive, competitive, safe arena for players to develop the skills of netball, promoting fair play, sportsmanship and respect at all times, as well as adopting INF regulations.

Maintain and protect the interests of the game and work for improved facilities for netball in Switzerland.

Assist in the development of the existing netball clubs in Switzerland.

Assist in the development of new netball clubs across Switzerland.

Promote and encourage netball as a game in schools and communities throughout Switzerland.
OUR MISSION
Maximise participation in Swiss Netball
#THISISNETBALL
#CESTNETBALL
#DASISCHNETBALL
---
Contact Information
Swiss Netball
admin@swissnetball.ch
swissnetball.ch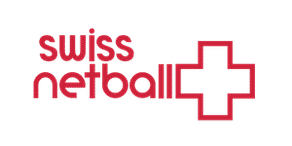 Thanks to our Affiliated Member Clubs
🇬‍🇧 🇫‍🇷 🇩‍🇪 🇮‍🇹 🇪‍🇸 🇧‍🇷 🇳‍🇱